Acknowledgment to Supporters
Sage development has benefited from the financial support of numerous institutions, and the previous and ongoing work of many authors of included components. A list of direct contributors is shown
here with a world map
and the history of changes can be seen
here
.
Awards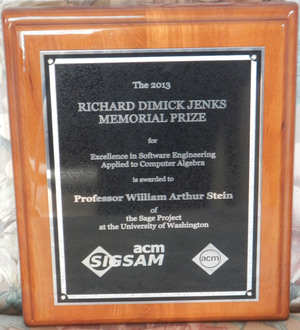 Jenks Memorial Prize, 2013
Financial and infrastructure support
Enthought, Inc. funded Sage Days 8 in Austin, TX.
Google is directly funding work on Sage and we were part of GSoC 2012, GSoC 2013 and GSoC 2014.
Microsoft Research is generously funding a native port of Sage to Microsoft Windows (2008).
The Heilbronn Institute and University of Bristol – Sage Days 6 Workshop (November 10 – 14, 2007)
National Science Foundation
University of Washington

University of Washington's Royalty Research Fund (RRF) funded Stein for one year to work on the Sage Notebook and Symbolic Calculus
Department of Mathematics (start-up money)
six undergraduates have been funded via the NSF VIGRE grant
Yi Qiang received a Mary Gates Scholarship for work on Sage.

UW, Dept. of Computer Science, for providing the Sage lab (Sieg Hall 312).
MSRI – two Sage-related workshops
IPAM – hosted and funded Sage Days 3 and Sage Days 7.
Sage Days 5, September 30 – October 3, 2007

funded and hosted by Clay Mathematics Institute

Sage Days 18, December 1 – 5, 2009

funded and hosted by Clay Mathematics Institute
Sage Education Day 1, December 5, 2009: funded by MIT and hosted by Clay Mathematics Institute

Sage Days 20

CIRM: Centre International de Rencontres Mathématiques
FRUMAM: Fédération de Recherche des Unités de Mathématiques de Marseille
LIF: Laboratoire d'Informatique Fondamentale de Marseille
Programme Accès
CNRS: Centre National de la Recherche Scientifique, in particular by the "formation permanente du CNRS"

Sage Days 23

GTEM under European Commission contract MRTN-CT-2006-035495

Sage Days: Multiple Dirichlet Series, Combinatorics, and Representation Theory (February 11 - 15, 2013)
Glenn Tarbox — a high-end CUDA development machine and a substantial cash donation
Sun Microsystems — significant hardware discounts
Metamodul — access to hardware running AIX
Blastwave.org — providing a complete Solaris build farm for Sage developers
GCC Compile Farm Project — access to a build farm for Sage developers
The Beatrice Yormark Fund for Women in Mathematics — substantial cash donation
Mirror Network Hosting Providers
Distributing Sage around the globe requires servers on each continent, each capable of transmitting data fast and reliably! Thank you to
all servers in our mirror network
.
Phillippe Saade financing "sagemath.fr" mirror.
Indirect contributors
Karim Belabas: extreme help with PARI integration
John Boyer: edge addition planarity code
Timothy Brock: user feedback
Henri Cohen: discussion
Edray Goins: Feedback
Florian Hess: Feedback
Lloyd Kilford: Feedback
Qing Liu: genus2reduction
Stefan Mueller-Stach: Feedback
Fernando Perez: IPython (and helpful feedback, changes, etc.)
Michael Rubinstein: lcalc
Victor Shoup: NTL library
Michael Stoll: Sieving for points (part of mwrank)
Frank Lubeck: Conway polynomials
GMP Authors
Please
let me know
if I failed to acknowledge anybody's contributions!